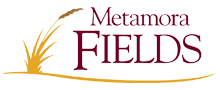 Metamora Fields Golf Club
"Where You're Always Welcome"
Metamora Fields Golf Club in Metamora, Illinois is quite a unique venue just outside of Peoria, about a 2 hour drive from Chicago. Whether you're looking for a great golf course, a place to relax and enjoy a friendly atmosphere, or you seek a top-quality experience for your banquet or wedding, Metamora Fields should be at that top of your list. We've designed the entire community for everyone's enjoyment...whether dining in the clubhouse, playing our championship golf course, or living in our wonderful, 102 Lot residential community.
Our tag line "Where You're Always Welcome" says it all. Our clubhouse & dining experience has the very best view of golf in all of Central Illinois. From our two level outdoor deck, peer out towards the 9th & 18th greens which are tucked on opposite sides of a beautiful chain of lakes. It's the perfect way to begin your day, end your round, or start your night...as you'll enjoy scenic views while relaxing on the deck or inside the clubhouse.
Whether you are planning a wedding rehearsal dinner, ceremony, reception, business luncheon or an elegant dinner party, you will find the perfect setting at Metamora Fields. Our 25,000 square foot Clubhouse offers a variety of meeting and banquet room options to fit any function.
We believe in an affordable golf experience that everyone can enjoy. Our facility is "exclusively public", open to everyone, and we promise to deliver a high quality golf, function, and/or dining experience worthy of your consideration in today's economy.